If you'd like to receive updates about the retrodance, please

Like your grand­parents' barn dance without the barn — old-time squares & reels, maybe a polka or a contra as well. Totally retro — try it!
Retro­dance on the Road!
We're taking the Retrodance on the Road this Fall.  If you'd like to have a Retrodance in your community – or your church or your bar or your barn – shoot us an
(Or your wedding, or your pig roast, or your vege bacchanal, etc.)  In the meantime, we'll post all the retro opportunities to dance here.  If you know of any events that should be included, let us know that as well.
---
Coming Up!
The 4th Annual Paonia Old Time Gathering and Barn Dance
at Delicious Orchards, June 2nd - 4th.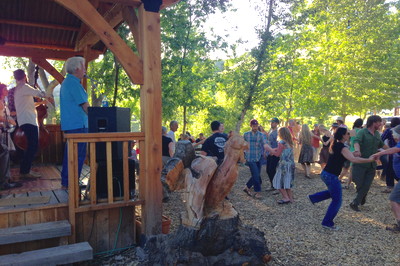 A weekend of camping and jamming old time music in beautiful western Colorado.  Saturday afternoon is the season opening of Delicious Orchards, and there will be music (cajun, bluegrass, old time), BBQ and cider for sale in the afternoon, and Chris Kermiet calls a Barn Dance Saturday night (6:00 – 9:00 pm).  Cost is $10 per night for camping. 

Friday: Camping and jamming
Saturday: Delicious Orchards BBQ and cider for sale, 2:00 – 9:00 pm
Free live music and Barn Dance!
2:00 – 4:00 pm: The Avalanche String Band (Bluegrass from Grand Junction)
4:30 – 5:30 pm: Alto Gumbo from Carbondale (Cajun music and dancing!)
6:00 – 9:00 pm: Barn dance.  Old Frontier String Band with caller Chris Kermiet
Sunday: Camping and jamming
More details on FaceBook.
---
Join our for reminders of upcoming events.