(Or your wedding, or your pig roast, or your vege bacchanal, etc.)  In the meantime, we'll post all the retro opportunities to dance here.  If you know of any events that should be included, let us know that as well.
Barn Dance at the Altona Grange — Friday, November 18th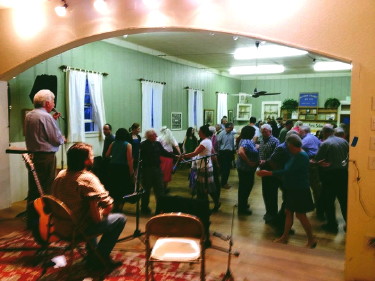 Sponsored by the Living Arts School, from 7 - 9 pm. $9.
You may purchase a ticket in advance through the Living Arts School website (and you should check out some of their other offerings, as well). The Altona Grange is a historic Grange Hall located North of Boulder at 39th St. and Nelson Road. (Longmont – from the Diagonal, take Nelson Rd. West, from Boulder – N. on 36 towards Lyons, turn right on Nelson Rd.)
Chris Kermiet calls to live music by Jason and Gina Dilg. No experience necessary, all ages welcome. Children ages 10 and under are free. All dances will be fun and accessible to dancers of all sorts...bring a friend and experience the joy of this old-timey tradition.
Located in Boulder County, The Living Arts School is Colorado's first folk school.  A folk school, also known as a craft school, is a place for "folks" of all ages to pursue a unique and life-changing education–one that focuses on the renewal of traditional living skills, crafts and music. (...)
Musicians Jason and Gina Dilg perform traditional tunes from Appalachia and the American Midwest. Chris Kermiet has been calling and teaching traditional American squares and contras for over 35 years.